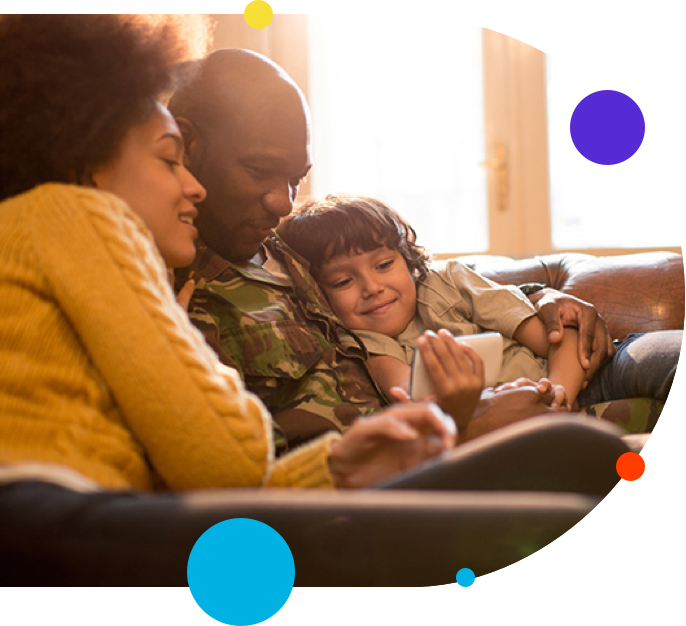 Coping with Deployment
Supporting Children of Parental Deployment
Parental military deployment can be a very difficult adjustment for children, who may not be able to speak to that parent regularly, and may experience a great deal of stress and worry.
How does deployment affect children?
Young children dealing with parental deployment may experience feelings of abandonment or anger. Often these children do not know where to turn—some are told to be proud or to "be brave for Mommy," which may contradict the complex sadness or anger they are currently feeling.
Research has shown that adverse childhood experiences, such as deployment, can significantly affect children's learning, emotional and behavioral issues if unaddressed. Childhood trauma can change pathways in the brain that impact impulse control and hormonal responses, and the high stress associated with these events can have long-term effects on health issues like disease and depression. Parents, guardians, teachers and other caring adults can help children adjust and process these events in a healthy way.
How can you help?
The emotions of children experiencing a life-altering event may manifest themselves in different ways. Therefore, it is important to recognize that children of military families may respond with sadness, anger, guilt or another emotion when adjusting to a change.
Many adults may sense that a child in their care is suffering but feel that they lack the ability to get a child to open up and share their experiences. Peer-to-peer settings, like those offered by Rainbows for All Children, help children to communicate more naturally and support each other, sharing ideas and feelings using age-appropriate language and concepts. These peer groups also emphasize that others validate and support a child's experience, providing a community in which children can process safely.
How does Rainbows provide support?
Those who want to support the children of military families can recognize the conflicting emotions that deployment kids may experience and provide children with tools to address the situation's complexity. Children can engage with their feelings through play, discussion and art, and understand their experiences from their own developmental standpoint.
By joining the Rainbows community as a facilitator or a participant, you gain access to an effective and engaging curriculum, a community of peers for those experiencing a loss, and materials and training to help facilitators prepare. Sign up today, and begin your process as a facilitator with Rainbows for All Children.
Helpful Resources
Articles and Educational Brochures
Categories
Find More Resources
We provide resources for all forms of grief.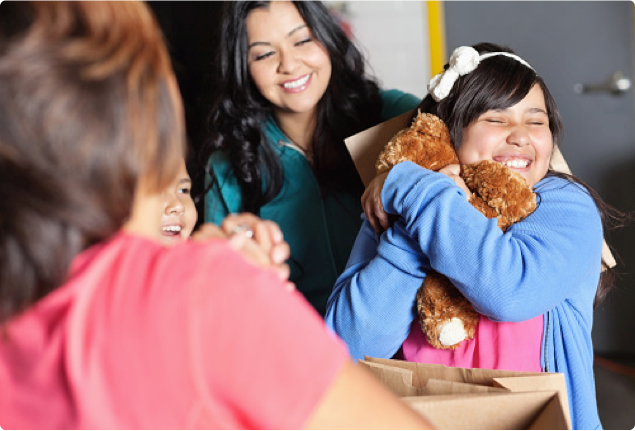 Death
Of all the children in America, around 15% will experience the death of a family member or sibling. Even though death is ultimately a fact of life, it can be hard for anyone to experience this kind of loss, let alone a child.
Separation/Divorce
There are about 1.25 million divorces per year in the United States. Of all U.S. children, 50% will witness the breakup of their parents' marriage, and almost 50% of those children will also see the breakup of a parent's second marriage.
Incarceration
One in 28 children will have a parent become incarcerated before their 18th birthday. Approximately half of children with incarcerated parents are younger than 10 years old.
Deportation
When a parent, caregiver or sibling is deported, or even when there is the threat of deportation, the whole family suffers.
Military Deployment
Parental deployment is a form of loss that 3% of American children experience. This can be a very difficult adjustment for children, who may not be able to see or speak to that parent regularly, and who also may experience a great deal of stress when worried about his or her parent or guardian's safety.
Significant Illness
A child coping with the significant illness of a parent, caregiver or sibling can face many challenges.
Community Crisis
Community crises, such as natural disasters, pandemics or political unrest, cause confusing emotions for children. Rainbows' programs can help children navigate difficult times and provide a sense of stability.
Find A Support Group
Rainbows' programs help children grieving the loss
of a parent or guardian due to death, divorce/separation,
deployment, deportation, incarceration or trauma.