Events
Join us for one of our many events.

Rainbows for All Children's 1st Annual International Virtual Conference
June 15 @ 11:00 am

-

2:00 pm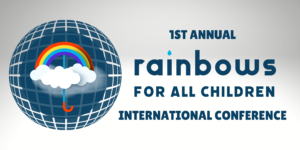 Featuring Keynote speakers from Rainbows Australia, Abir Ali and Michelle Jones with Robyn Dixon.
Please join us as we discuss topics including: Rainbows Presence Around the Globe and the Unique Communities We Serve, Becoming a Rainbows Certified Facilitator in Your Community, Creative Approaches to Peer Group Activities, Surviving Vicarious Trauma and Compassion Fatigue, Utilizing Mindfulness Techniques in Peer Groups, Rainbows Facilitator Networking, How Adverse Childhood Experiences Impact Youth, Helping Caregivers Talk to their Children About Grief and Loss, Holding Space: Being a Compassionate, Confident, Successful Facilitator, Starting or Re-Starting Peer Support Groups Post COVID.