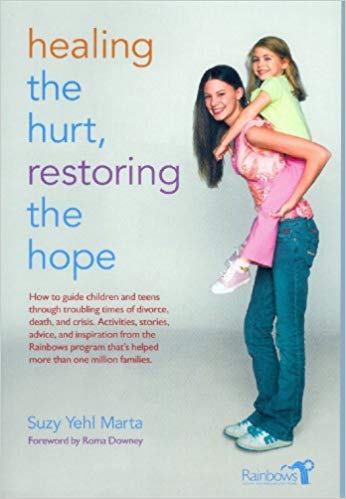 Healing the Hurt, Restoring the Hope by Suzy Yehl Marta
$10.00
Overview
Healing the Hurt, Restoring the Hope, written by Rainbows founder Suzy Yehl Marta, offers techniques to help children and teens resolve their grief and once again live a life filled with joy and hope.
Product Description
Even if children or teenagers you love appear to be doing "just fine" after a loss, the truth is, they may be suffering in silence. They may not even know they need your help.
Now with the trusted guidance of founder and president Suzy Yehl Marta, you will discover the most effective advice, stories, and techniques from Rainbows' worldwide grief programs.
Suzy's simple, straightforward, refreshing style makes helping a child both easy and effective. Her approach works to keep misperceptions, isolation, and sadness from permanently affecting the important children in your life.
Additional information
| | |
| --- | --- |
| Weight | 14 oz |
| Dimensions | 8 × 5 × 1 in |
Over half of all children living in the U.S. will experience the absence of a family member during their childhood. See how you can be a part of our mission to support these children as they experience grief.