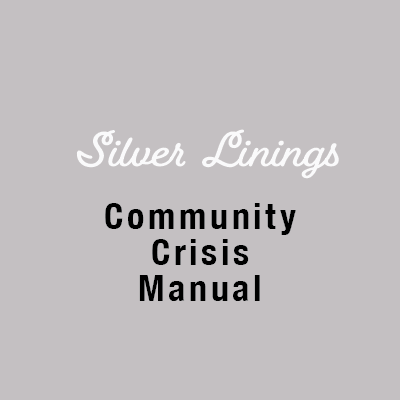 Silver Linings – Community Crisis Program
$25.00 – $50.00
A program to support children and teens affected by community crises
As we have moved further into the COVID-19 pandemic, it has become increasingly obvious that our youth are struggling under the growing weight of depression, anxiety and fear. With their routines uprooted, social distancing guidelines enforced and parents with no experience in such unprecedented circumstances, youth will face massive trauma following this pandemic and it is likely many do not have the skills to cope with the grief this pandemic has inflicted on them.
It is very clear that there will be no return to 'normal' following the events that have taken place throughout 2020. As adults, it is incredibly difficult to understand and adapt to our changing world. For youth, this burden is especially heavy. For youth who are especially close to the pandemic– who have lost a loved one from Coronavirus, or have had a family member contract the virus-the toll will be much worse. During these times, it is important to surround our youth with care, to educate them on what is going on while also guiding their mass media consumption and to provide a sense of purpose. Rainbows for All Children's mission is to guide youth through the storm clouds of grief. With the constant uncertainty and an awkward reopening of the country, it is clear that we are all grieving the predictable life left behind before Coronavirus. We want to help.
The Rainbows team has re-written our Silver Linings program to meet the social-emotional needs of students who have experienced a community crisis such as this. Silver Linings was developed after 9/11 as a community crisis support group following a natural or manmade disaster. It has since been used following hurricanes, school shootings, wildfires, etc. Facilitators are reporting improvements in attention and attendance, as well as a strengthened sense of community.
Included in the program training cost are: a one-hour online training, electronic facilitator manual with full curriculum for PreK thru 12th grade levels, and digital (fillable) activity books for all levels.
For more information or to begin training, please call Paula at 847-952-1770 or email her at Paula.Carter@Rainbows.org. To purchase now, click below:
Additional information
| | |
| --- | --- |
| Pricing Level | Rainbows Certified Facilitator, Non-Rainbows Facilitator, Rainbows AND Silver Linings Training, Group Rate (10 persons) |
Over half of all children living in the U.S. will experience the absence of a family member during their childhood. See how you can be a part of our mission to support these children as they experience grief.